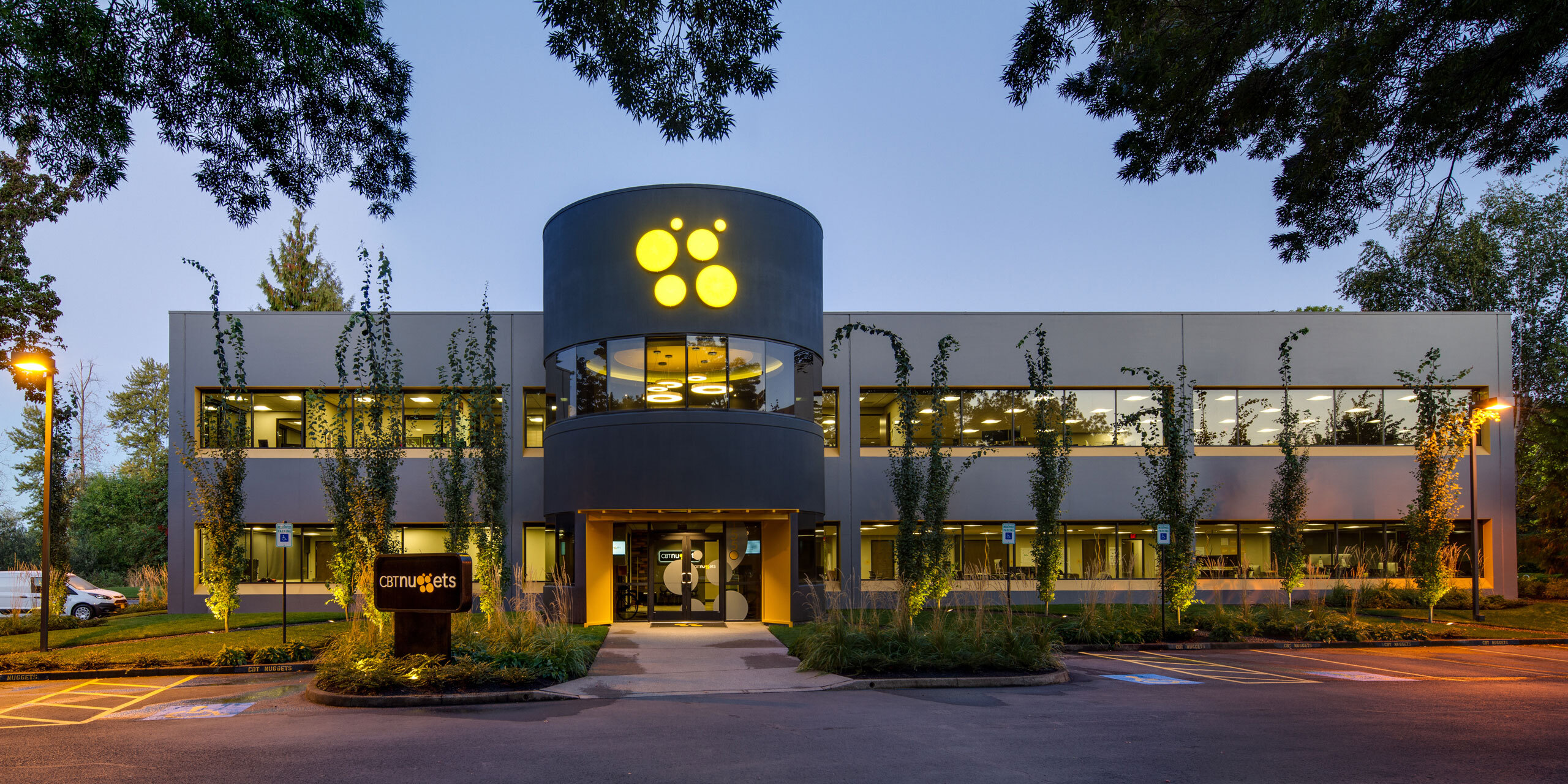 CBT Nuggets
A renowned IT company providing informative, meaningful & engaging online videos sold all over the world. With a growing team of developers, sales and support staff, CBT needed to relocate to a larger facility to accommodate up to 120 employees.
Location — Eugene, OR
Year Completed — 2015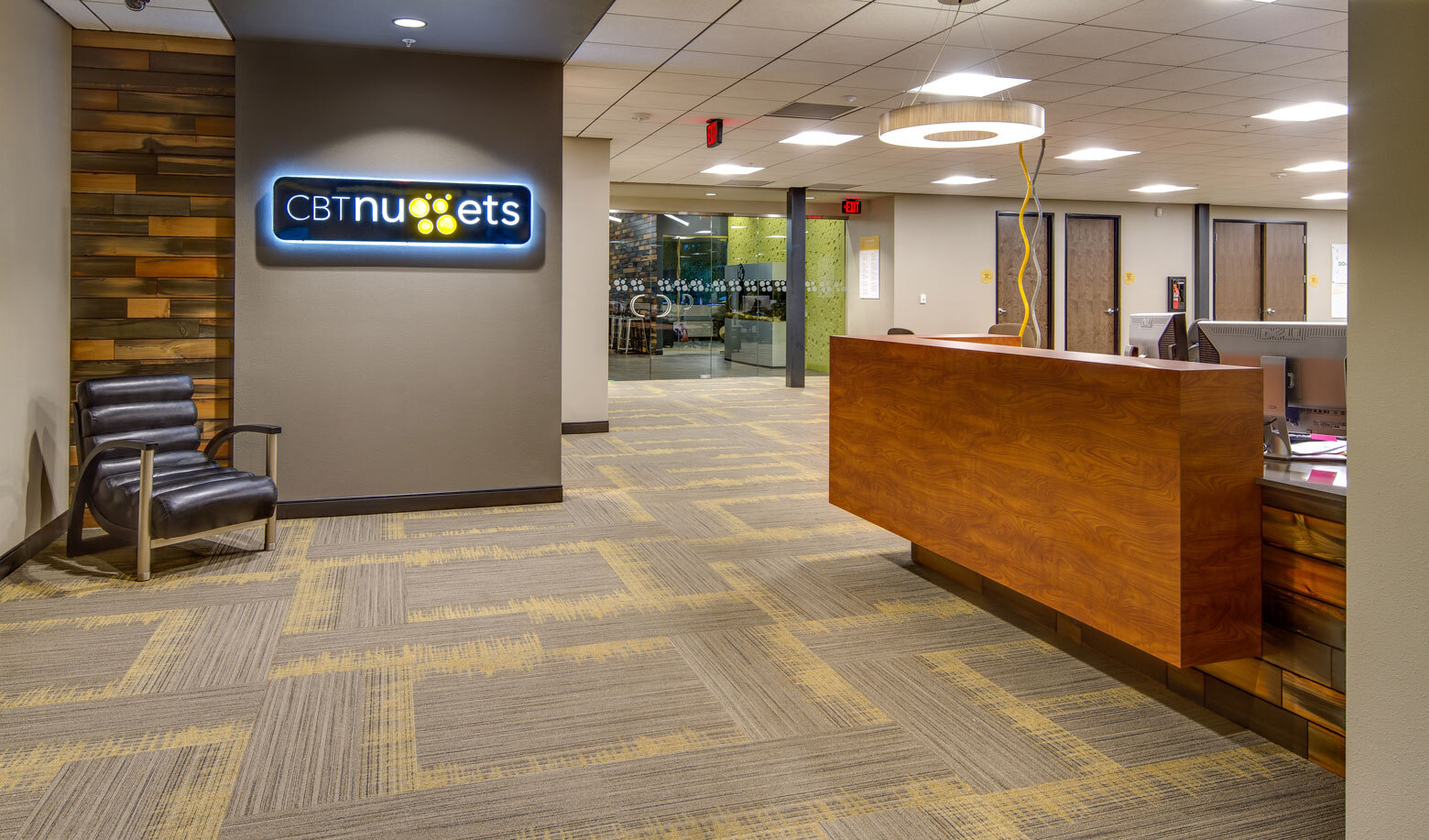 For this project, we remodeled and repurposed a 1988 precast concrete office building into a new corporate headquarters for the rapidly growing business. The existing building is located in a prime location along the Willamette River Greenway. Our client wanted a predominately open plan with breakout rooms and two larger conference rooms, focusing on a design that encourages a fun, collaborative environment.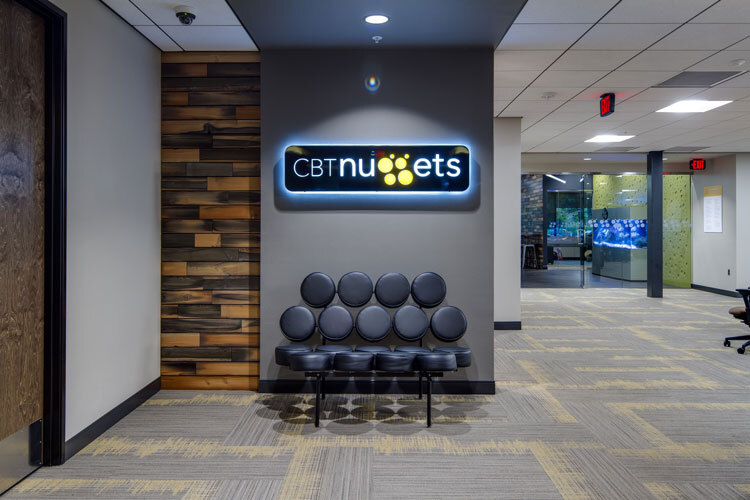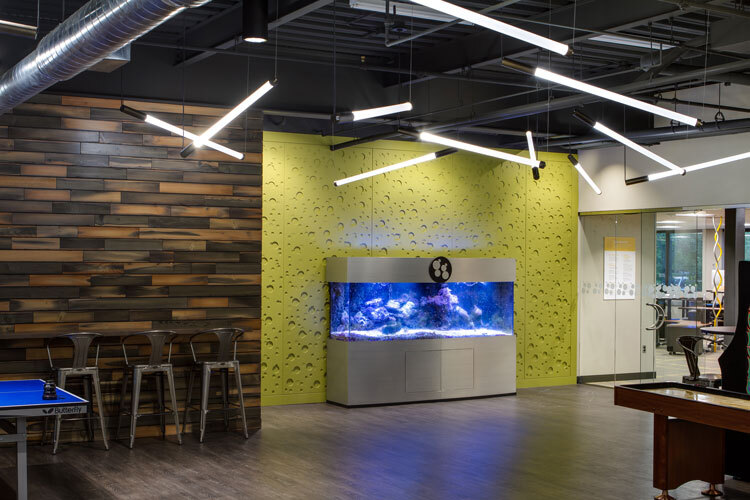 One of the centerpieces of the design is a large employee lounge area. The concept was centered on a room that can be used for dining, gaming, and team building as well as connecting to a large outdoor patio space. The patio, which can accommodate upwards of 75 people, is a huge benefit to the employees and management, and serves as a daily hub for team building and bonding.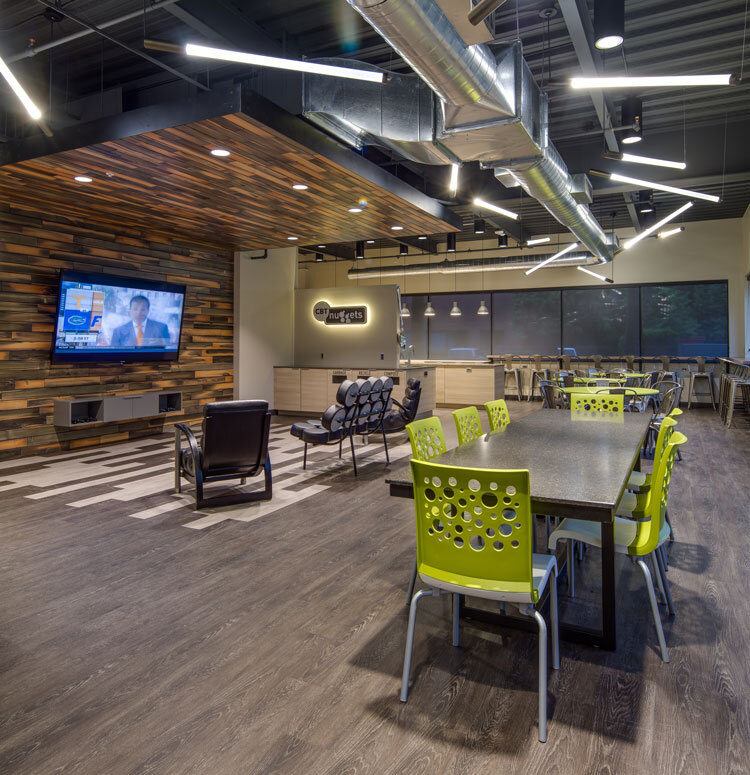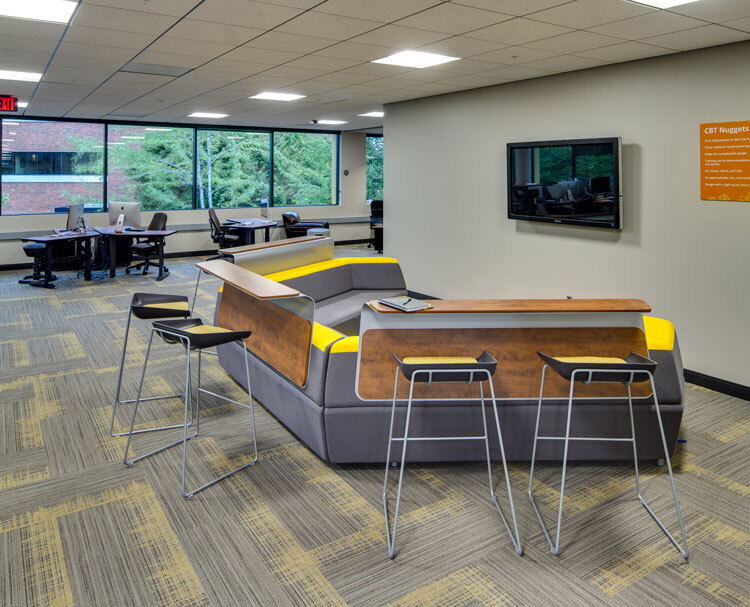 One feature of the remodel are accents of reclaimed wood throughout. We were able to source a unique reclaimed wood that was salvaged from the cargo hulls of two World War II shipping barges that been sunk off the coast of Oregon for over 60 years. We were able to re-mill the material into beautiful paneling, keeping the patina that only aging under water can provide.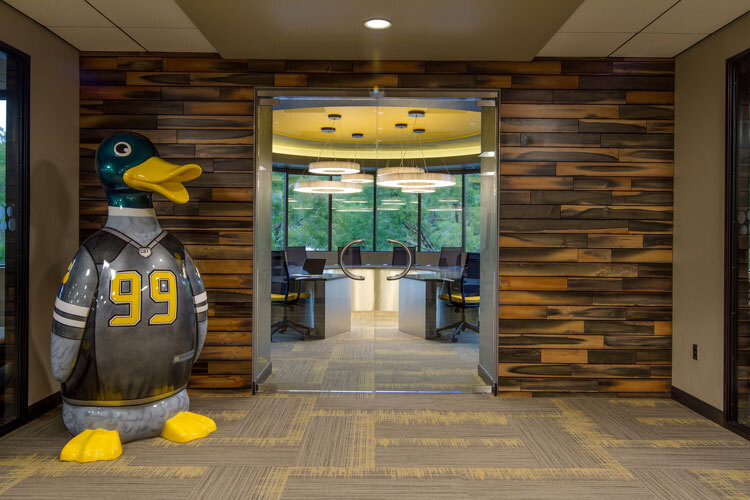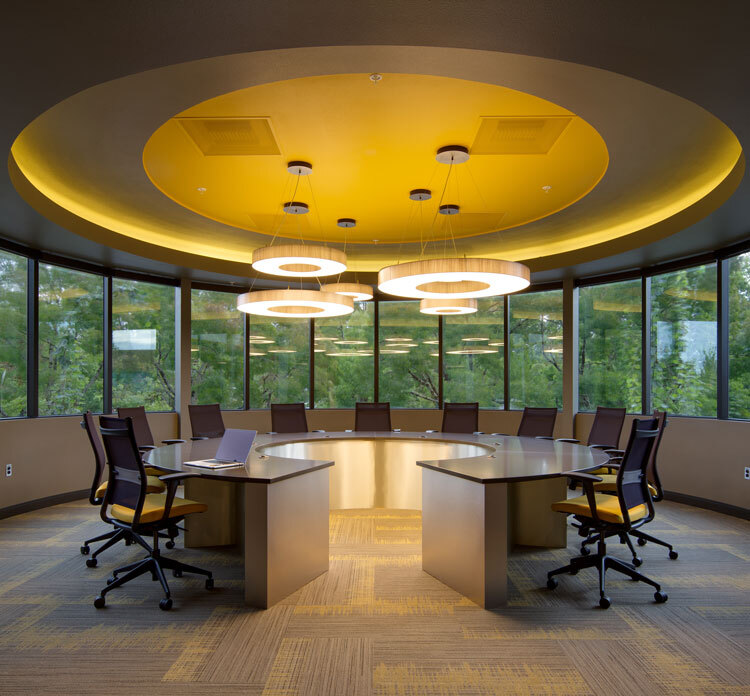 Other key components of the design include: a central "Bike Hub" at the main entry to encourage alternate transportation methods; a full fitness room that offers cardio machines, free weights and a space for weekly yoga and other group sessions; and a "Serenity Room" with massage chairs and media to promote quiet times. First floor restrooms feature full locker rooms and showers for those using the gym facilities.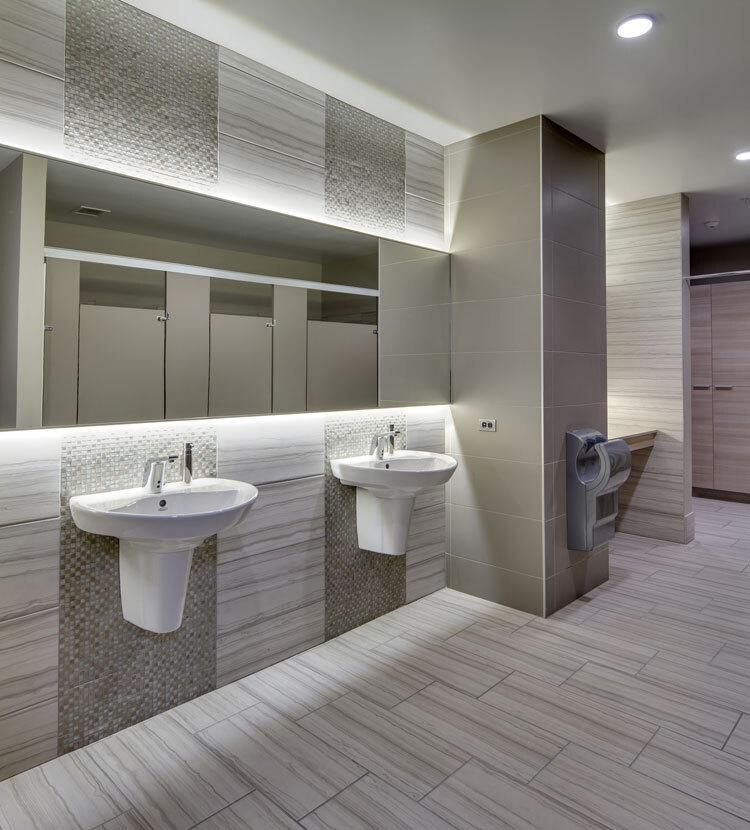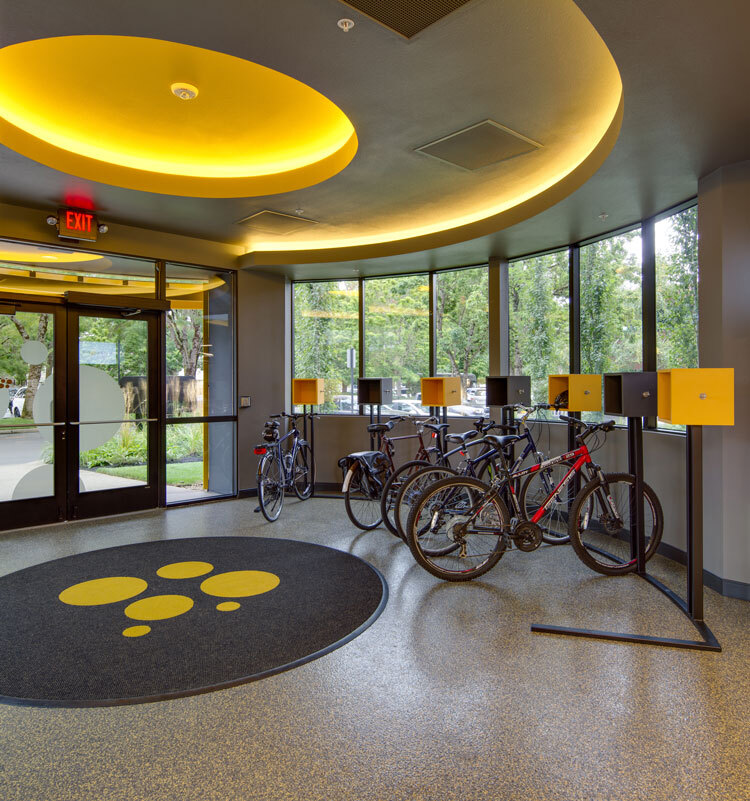 The second floor includes a dynamic conference room for larger meetings and breakout rooms for smaller groups or individual privacy. The second floor also has a coffee/espresso bar outside the main conference room. The exterior of the building was also given a fresh look with a new paint scheme, signage, awnings and landscaping. These improvements modernized the look of the original "all white" building.
"The result of this project has become a wonderful example of giving new life to a tired, dated building and creating dynamic office space that encourages the new occupants to engage with one another to stimulate creativity and produce meaningful work!"
- Bill Randall